Beginner Guide on Winning at Progressive Jackpot Slot Games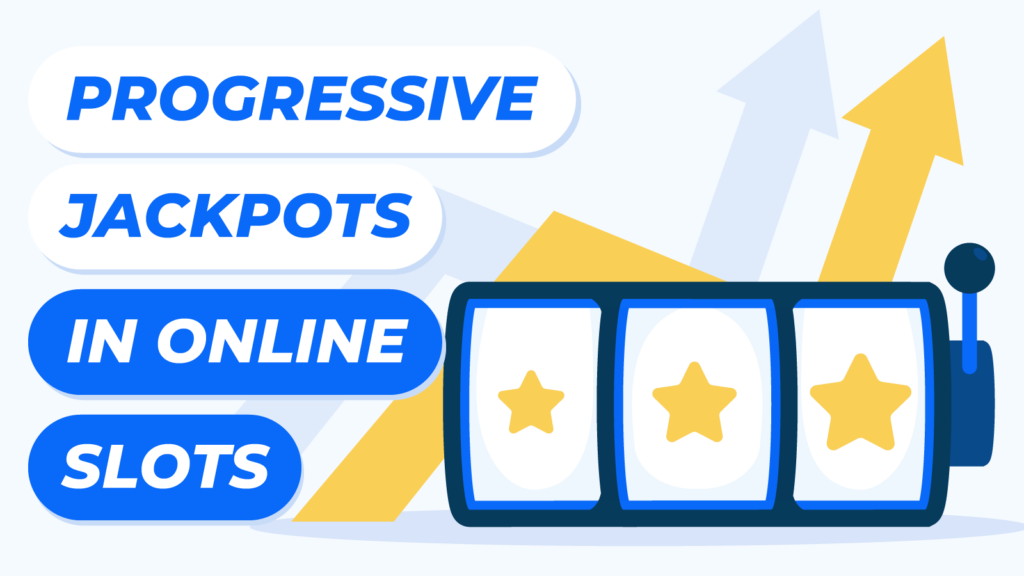 Progressive jackpots in slots work by adding a part of your bet to the final prize. Our expert guide explains realistic winning tips on how to play & win big.
What Are Progressive Jackpots?
Progressive jackpots are an online slot feature that takes a percentage of your bet and adds it to the pot. Mega Moolah and Divine Fortunes are some of Ireland's most popular progressive Jackpots.
Slots that also have a progressive jackpot feature are available in land-based venues and in online casinos.
How Do Progressive Jackpots Work?
Progressive jackpots work using bet percentages to increase the final win. The final prize is continuously larger until a player hits the jackpot winning combination.
So, the more players who bet on the jackpot, the bigger the win. The pot will be reset to the original value when the jackpot is won, and the process starts again.
Types of Progressive Jackpots
There are three main types of progressive jackpots you might find when playing online slots:
Standalone Progressive Jackpots: A standalone progressive jackpot is specific to one game and is not linked to any other game or casino.
In-house Jackpots: Local progressive jackpots are linked to a group of games within a single casino. The jackpot amount is still relatively small but multiplies due to the number of games related to the jackpot.
Wide Area Progressive Jackpots: Wide area progressive jackpots are linked to a group of games across multiple casinos. These jackpots are the largest and can sometimes reach millions of dollars.
Most online slots sites we researched provide all three types of jackpots, although the third one is a little rarer.
Rules: How to Play Progressive Jackpot Slots
The most common rules for progressive jackpot slots are:
Place the maximum bet on every spin to remain eligible for the entire progressive jackpot prize. When you stake a smaller amount, you are usually only entitled to a part of the whole pot if you get a winning combination.
The winning combination may rely on specific slot symbols or trigger randomly.
Check your deposit limits and track your progress to avoid significant loss.
Contact the live chat operators as soon as you've won to get instructions.
Various progressive jackpots pay differently. While some games allow you to get a part of the total pot depending on your bet, others only provide the total prize to the winner who staked with the recommended amount.
Realistic Expert Tips to Win Progressive Jackpot Slots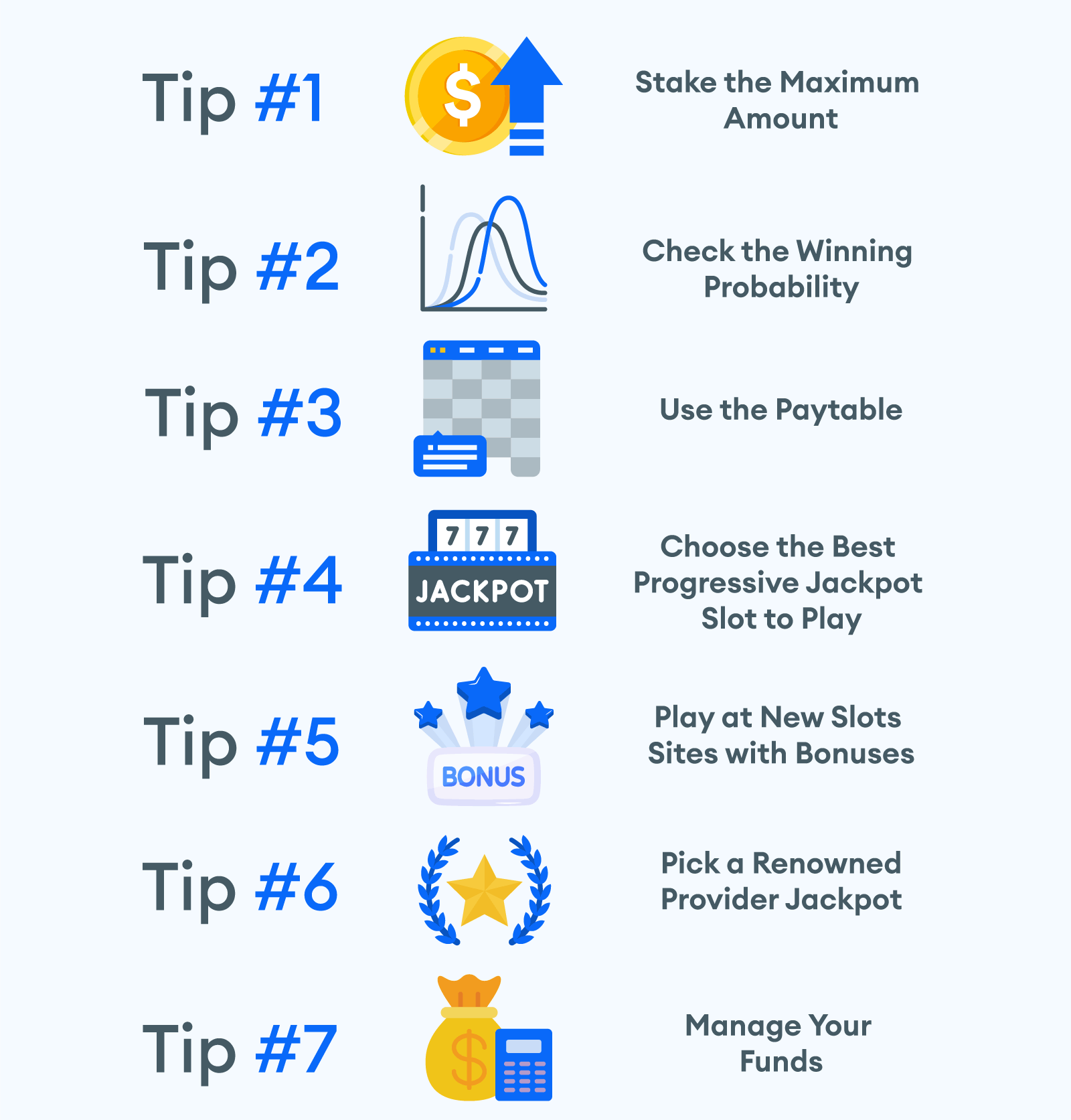 CasinoAlpha experts explain how you can realistically increase your odds when playing progressive jackpots:
Tip #1: Stake the Maximum Amount
Stake the maximum betting limit allowed by the progressive jackpot slot. This ensures that, in case you hit the winning combination, you will get the whole pot.
However, consider that this may be costly. The higher the jackpot, the higher the maximum betting limit.
If the maximum bet is too pricey for you, pick smaller progressive jackpot games. You should always check your budget and wagering limits before getting started on a progressive jackpot.
Tip #2: Check the Winning Probability
The probability of winning at progressive jackpots is very low, usually. That's why you should check the payout rate for progressive jackpots and play at online slots with higher winning odds.
If you play a low-probability jackpot, don't chase any losses. Just change the game to reset your odds.
Tip #3: Use the Paytable
Using the progressive jackpot paytable shows you which payouts you receive for particular combinations. This is helpful because you can see when you've hit one of the combinations and ask for your win if it's not automatically allocated.
Tip #4: Choose the Best Progressive Jackpot Slot to Play
Choose a progressive jackpot with the highest maximum pot to ensure your potential win is considerable.
Pick the game with the lowest maximum bet, so you can play longer and increase your chances of hitting a winning combination.
Select a game with a higher winning probability.
Choose a game with a good reputation hosted at reliable online casinos.
Tip #5: Play at New Slots Sites with Bonuses
Choosing a progressive jackpot from a newly established slot site may increase your odds because you get more progressive jackpots with higher odds.
While analyzing new slots sites to update our selection, our experts noticed that these sites also tend to offer promotions that specifically apply to progressive jackpot slots, so you wager more with the maximum stake without using too much of your budget.
Tip #6: Pick a Jackpot Created by a Renowned Provider
To ensure the game is fair, pick one developed by well-known casino game providers in Ireland. Some of them are:
Microgaming
NetEnt
QuickSpin
Novomatic
Playtech
Pragmatic Play
Tip #7: Manage Your Funds
Managing your funds to win means:
Setting a budget for progressive jackpot bets;
Manage your bets so you give yourself more chances of playing. If you can't afford to always stake the maximum limit, distribute your bets so you can stake the maximum amount a few times.
Track how much you've lost and stop when you reach your budget limit.
Do not chase losses. Instead, change the game or wait until you can again gamble safely.
Hitting the winning combination is completely random for progressive jackpots. The only strategy that succeeds in minimizing potential losses is a combination of picking the right jackpot, using a specific promotion, understanding the paytable, and budget management.
Bonus Tip: Top Progressive Jackpot Slots to Play
| Progressive Jackpot Online Slot | Progressive Jackpot Type | Maximum Pot | Theme | Features |
| --- | --- | --- | --- | --- |
| Mega Moolah | Wide Area | +€1000000 | African Safari | Free Spins, Bonus Game |
| Major Millions | Wide Area | +€250000 | Military | Wild Symbol, Multipliers |
| Divine Fortune | Standalone | +€100000 | Greek Mythology | Wilds, Free Spins, Bonus Games |
| Mega Fortune | Wide Area | +€1000000 | Luxury Lifestyle | Wilds, Free Spins, Bonus Games |
Why We Recommend Mega Moolah
CasinoAlpha recommends Mega Moolah for its low maximum bet of €6.25 and 25 pay lines with high probabilities. The maximum pot starts at €1000000 and can well reach over €20 million, which makes it one of the most convenient pots in the industry.
Another advantage of the game is the four different jackpot format that allows players with different budgets to win.
Why We Recommend Major Millions
Major Millions is one of our top progressive jackpot recommendations because it's a popular title with a pot that starts at €250000. With 15 pay lines and a maximum bet of €3, this offers the chance of a big win for small wagers. It has paid out some of the largest online jackpots in history.
Why We Recommend Divine Fortune
Our experts recommend Divine Fortune due to its convenient format with 3 different progressive jackpots: Minor, Major, and Mega. The Mega jackpot is suitable for high rollers because it has a maximum bet of €100.
Why We Recommend Mega Fortune
We choose Mega Fortune as one of the top progressive jackpots because its average payout is around €4 million, and it paid out a record-breaking €17.8 million in 2013. This shows accessible odds that combine perfectly with the luxurious theme and high-quality graphics of the game, featuring yachts, champagne, and diamonds.
Did we cover everything?
If you have any more questions or would like to share your thoughts on winning at progressive jackpots in online slots, please use the comments section! We take your feedback seriously because it helps us bring you the best and most relevant information.
Advantages and Disadvantages of Progressive Jackpots
Advantages
Big payouts from a few spins.
The pot increases every time you bet, so you stand a high chance of covering any losses if you win.
A large variety of themes, features, and bets
Disadvantages
Low probability scores
High volatility
Higher minimum bets than slots
CasinoAlpha's Guiding Techniques Never Fail
In closing, progressive jackpots provide the exciting chance to win life-changing sums of money from just a few spins.
However, they come with low odds and high volatility. By following our expert tips on game selection, budgeting, using bonuses, and gambling responsibly, you can maximize your chances while minimizing potential losses. Focus on having fun rather than obsessively chasing the jackpot. Progressive slots add thrilling value to the overall experience, but hitting the combination relies largely on luck.
Approach progressive jackpots as an entertaining extra alongside your regular gameplay rather than the main goal. And who knows – you may end up landing that record-breaking win!
F.A.Q
What are progressive jackpots?
Progressive jackpots are online slot games where the prize pool keeps growing as you or more players make the bets.
How do progressive jackpots work?
They work by taking a small percentage of each bet and increasing the final prize. The more you and other players wager, the bigger the final prize, which is randomly triggered. Some progressive jackpot slots only work for the games played at one online casino. Others are linked across different online casinos where the game is available at the same time.
How do I play progressive jackpot slots?
Pick a reputable slots site, choose the best jackpot, place the maximum bet to qualify for the pot and spin the reels. 
What are the chances of winning a progressive jackpot?
The chances of winning the pot are less than the odds of winning at regular online slots. They also depend on how many players are playing the game at the same time.
How much can I win from a progressive jackpot slot?
You can win over €1000000, depending on the progressive jackpot slot. The maximum amount should be mentioned in the game rules or in the casino terms and conditions.
What are the best strategies for winning a progressive jackpot?
Strategies for winning a progressive jackpot include:
Always playing with the maximum bet.

Choosing a high-probability jackpot.

Managing your budget.
However, all these strategies are to minimize losses.
Can I win a progressive jackpot with a small bet?
You can win a progressive jackpot with a small bet when the maximum bet is low. However, in most cases, the minimum bet does not qualify you for the full prize. Some casinos do not consider small bets, while others provide you with a smaller prize.
Are progressive jackpot slots fair?
Progressive jackpot slots are fair because the outcome depends on a random number generator. If the game is created by a reputable jackpot provider and a trustworthy casino, you can be sure it is a fair jackpot because licensed providers and casinos are evaluated to meet industry standards.