How to Delete Your Casino Account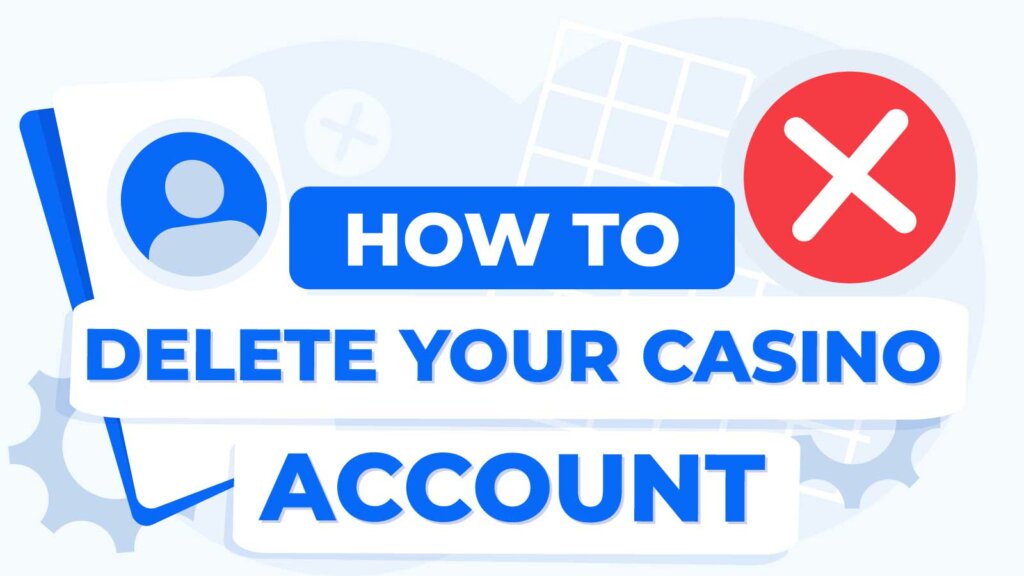 Our article provides a well-detailed guide on how to delete your casino account. Our analysis is based on the players' reasons behind account closure and on the sites' transparency and collaboration regarding the process.
Reasons players choose to delete their casino accounts
Gambling addiction.
Finding a better online casino with improved terms and conditions.
Opting for a new casino with better options.
Old casino changing ownership.
Old casino obtaining a new license from a less reputable regulatory body.
An unresolved dispute at the old casino.
Deleting your betting account
Closing a casino account used to be challenging, but thanks to today's legislation promoting responsible gaming, it's now simple. To cancel your account, take these actions: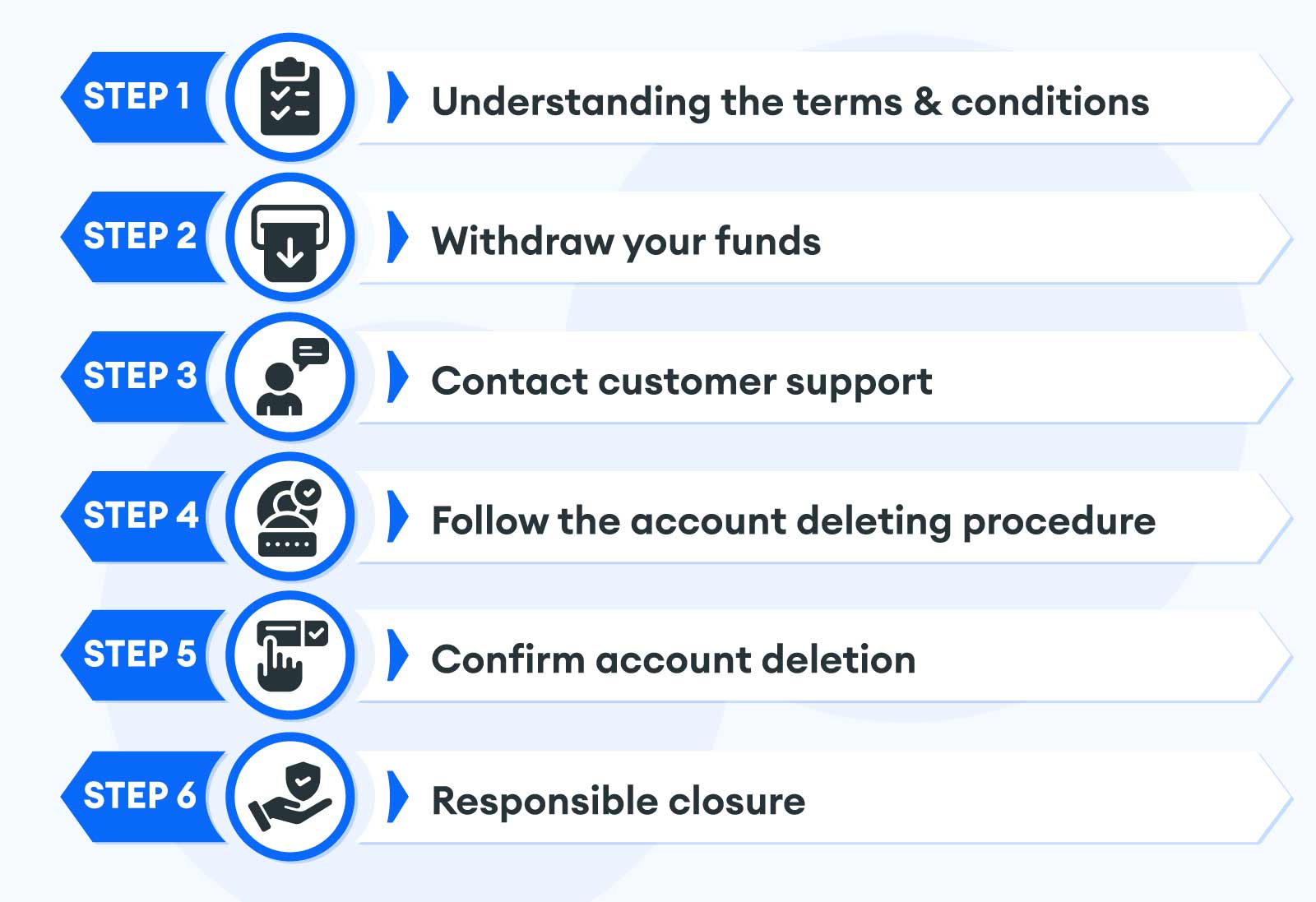 Step one: Understanding the terms & conditions
Before starting the deletion process, the first thing to do is carefully analyze the casino's terms and conditions. Identify the section outlining a user account's closing or deleting process. Note all the requirements, timelines, or conditions for this process.
Step two: Withdraw your funds
Make sure to withdraw all remaining money from your casino account. If casino bonuses have unfulfilled wagering requirements, you should consider meeting these requirements or forfeiting the bonus amount and its winning. Settle all financial matters to ensure you leave on a clean slate.
Step three: Contact customer support
Contact the casino customer support to request account deletion/closure formally. The customer support information, which includes live chat, mail, or phone, can be found on the casino website. The customer support agent will provide the necessary guidance on the entire process.
Important
Some casino customer support will ask why you wish to delete your account. They ask this to confirm if this reason is due to gambling problems. Once you state reasons relating to "Gambling Addiction", they would automatically ban you in compliance with the license they carry.
Step four: Follow the account deleting procedure
The customer representative will provide full support to help you with the process. They could request identity documentation and account details (such as your login, password, and birthday) to verify that you are the account owner.
Cooperate with the support staff and provide all information they request to facilitate a smooth account deletion process.
Step five: Confirm account deletion
Once your account deletion has been processed, ask customer support for confirmation. This can be a mail confirming your account has been deleted or a written document. This confirmation is evidence and assurance that your account has been closed successfully.
After receiving the confirmation, you can try to log in just to confirm your account has been truly deleted.
Step six: Responsible closure
Closing your casino account is a decision that must be handled carefully. Make sure you complete all pending financial matters and also straightforward all withdrawals.
Take a moment to reflect on the reason you're closing your account. It is worth noting that some serious reasons that may require total account deletion include gambling addiction and playing in a non-gambling jurisdiction.
Tips
Some casinos allow users to close their accounts from their profile settings. If this option is available on your online casino, this is the easiest way to close your account. You will likely still have to wait for confirmation.
Alternatives to closing your casino account
If you are considering closing your account but planning to reopen it later, you should opt for a temporary pause. However, if you struggle with gambling addiction, you should still go for account closure and contact a helpful organisation for assistance.
Self-exclusion
Instead of deleting your casino account, you can opt for self-exclusion if available on your casino. This option allows casino players to freeze their accounts for a specific duration temporarily.
The duration can range from a few days to some months. During this period, players cannot log in to their accounts. This option can offer a necessary break without the need for permanent closure.
Opt for self-control tools
The best online casinos offer gambling tools to help players control their gambling activity. Some of these tools have features like reality check notifications, session time limit, loss limit, and min deposit limit. Players can use these tools to create a healthy balance and prevent gambling addiction.
Stepping away from the casino
Players who don't want to complete the account closure process can simply abandon their accounts. Players can uninstall the casino app or unsubscribe from their mailing newsletter. Note that this method isn't effective since the casino still has your details and may reach out during a promo.
Be aware
Most casinos impose an inactivity fee if you do not use your account for more than 12 months. Always check the terms and conditions before making a decision regarding your account.
Gambling addiction
Casino gambling can be exciting and fun, but it can also become addictive if not controlled. Players must maintain complete control over their gambling activities. Gambling addiction can degenerate into financial problems and mental health issues that affect a player's interpersonal relationships.
Responsible gambling policy binds casino operators and players by enforcing casinos to help players practice healthy gambling. If you are uncertain about revisiting a casino, you can always opt for a temporary approach. Check out our best online casino reviews with responsible gambling policies.
Conclusion
There are many reasons players choose to close their accounts. "Gambling problems" and "changing to a new casino" are major reasons players may close their accounts. It's crucial to make the best decision possible for yourself and to always bet responsibly.
What's the best decision for you?
Have you ever paused your account? What do you think is the most efficient, responsible gambling tool? You can leave a comment telling us about your experience and if you have any additional tips besides the ones already mentioned.