10 Expert Tips For Playing At New Casinos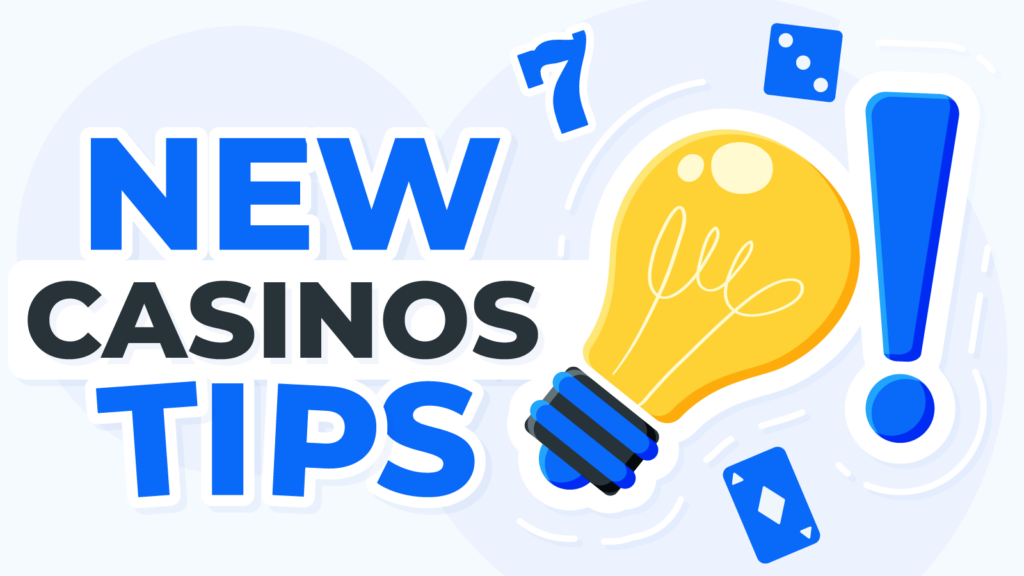 When playing at new casinos, you should opt for offers and pick games carefully. Our expert guide explains 10 tips for raising your odds at a new site.
10 Tips from Casino Experts for New Casinos
We know the value of your bets, and we need to make sure that you make the right decisions for your financial safety.
Thus, here is a short list of what you can do: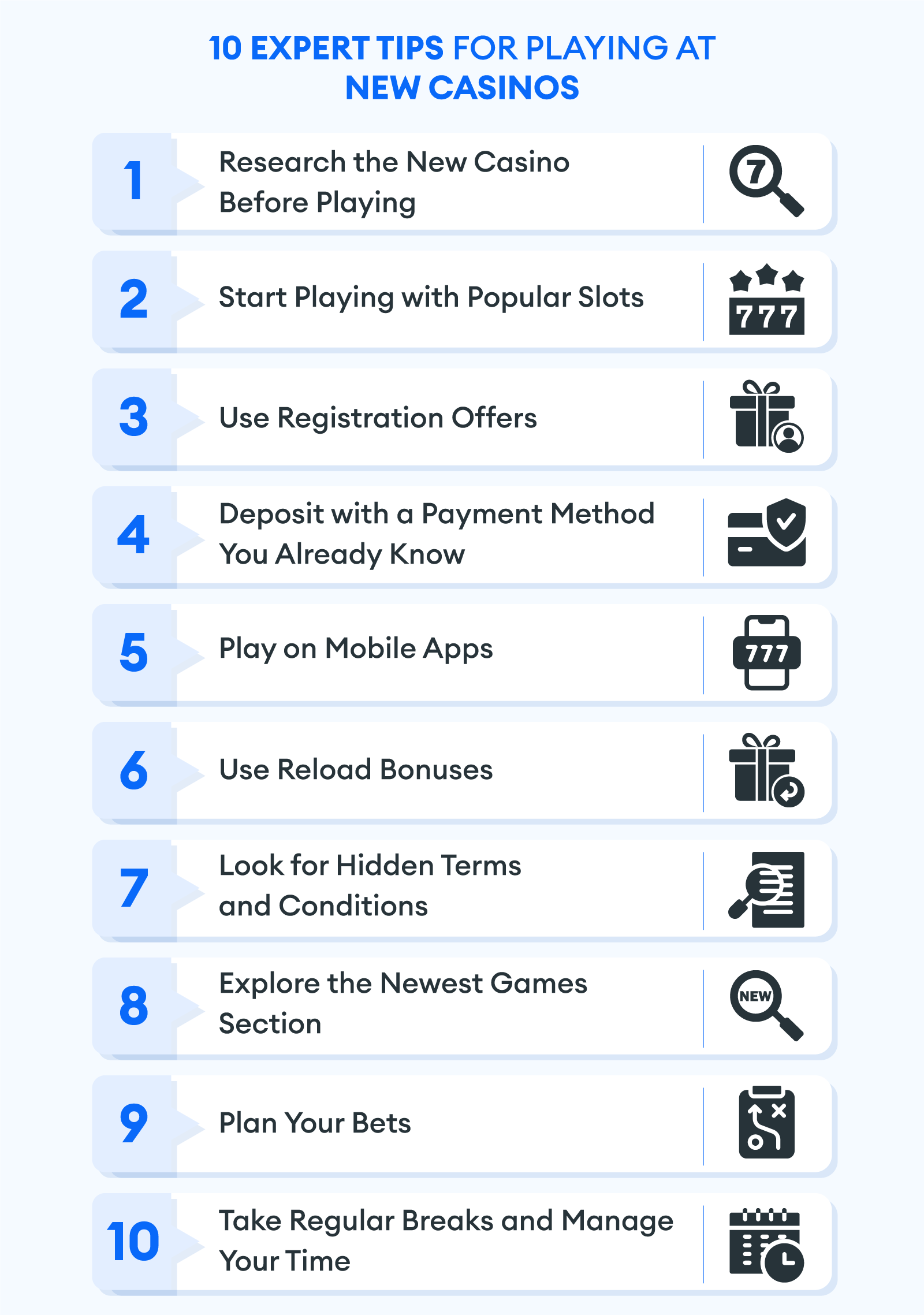 Tip 1: Research the New Casino Before Playing
Doing your research on a new casino before playing helps you avoid potential issues down the line.
As new casinos don't generally have the chance to build a strong reputation like established sites, you may find it difficult to get the details you need.
How to easily research a new casino
Do a quick search on Google to find if review websites cover the brand's name
Check for the name of the new casino on gambling forums to scout for player reviews
Search for the casino name on social media platforms to find relevant news
Look at the website of the new casino to see how many products they offer. If they have a vast and diverse game selection from reputable providers, they are probably a reliable site
Make sure it provides secure payment options that are safe to use in Ireland
A surefire way to ensure you're picking a reputable site is to choose a brand from an expert selection of new casinos in Ireland, where all the brands have been tested and approved by industry professionals.
Check for Licenses and Regulations
The most telling sign that a new casino is reliable is a valid gambling license by reputable licensors like an Irish Betting License, the UKGC, or MGA.
This is one of the crucial details to look for when researching a new casino because a license ensures that the casino is operating legally and that it has measures in place to protect its players.
How to find out quickly if a new casino is licensed and regulated
Check the casino's website footer for the logos of reputable licensing authorities
Contact customer support and ask about the site's license
Check expert reviews of the casino
Tip 2: Start Playing with Popular Slots
Start with popular slots that you know offer high payouts because they are secure and fair games, so the risk is minimum.
This way, you can also get more comfortable with the website interface and perhaps get a few wins to shoulder your budget.
Popular Slots Recommended by Casino Alpha
Our experts recommend looking for popular slot games, like:
Buffalo Megaways
Thunderstruck II
Twin Spin
Divine Fortune
Immortal Romance
Big Bass Bonanza
Starburst
Gonzo's Quest
Mega Moolah
Book of Dead
Tip 3: Use Registration Offers
Registration offers are a specific type of promotion that help you get started at a new casino without having to make a payment or by making a very small deposit.
In return for your deposit, these bonuses grant you credits or rounds that you can use to explore the site.
They can also provide extra value and increase your chances of winning.
Types of Registration Offers We Recommend
No deposit bonuses
Free spins on sign up
First deposit bonuses
Welcome packages that provide a no deposit offer and a match deposit bonus.
We suggest you first opt for promotions that require no payments because they will allow you to experiment and decide whether the site is worth a deposit.
Tip 4: Deposit with a Payment Method You Already Know
Using a payment method you're familiar with when starting at a new casino can help you avoid:
Unknown fees
Potential delays in transactions
Losing your money because of complicated payment processes
Wasting time on learning how to use the payment method
Unsafe transactions
Recommended Payment Methods for New Casinos
We recommend that you go for debit cards, e-wallets like Skrill Moneybookers, PayPal, Neteller, secure bank transfers, and pay-by-phone options.
Many new casinos accept crypto payments as well. However, you must remember that these are much riskier than the traditional methods we recommend.
What to Look for in New Casino Payment Methods
If the new casino you are signing up with does not have a payment method you have previously used, choose the option that fulfils the following factors:
Security: Your funds and the data you enter to use the payment option should be safe. Look for SSL encryption and other security measures
Speed: Check the processing time for deposits and withdrawals. Some payment methods are instant, while others may take up to a few days to process your transactions
Fees: Be aware of any fees associated with using a particular payment method. Fees for deposits may be different than cash-out charges
Tip 5: Play on Mobile Apps
We recommend you play on new mobile casino apps because the loading speed is much higher, payment processing is much quicker, navigation is easy and the graphics are of much higher quality.
All new casinos are optimized for mobile play and accessing them from your browser is also a pleasant experience.
However, playing with the casino app brings you added benefits, like:
Convenience
Easy navigation
Anonymity and security
Exclusive promotions
Quicker mobile payments into your casino account
Find Secure Mobile Apps
You will easily find secure new mobile casino apps on Google PlayStore and Apple App Store.
Some new casinos offer direct download links on their website, but we don't recommend downloading any applications to your phone that are not listed on official app stores.
Tip 6: Use Reload Bonuses
Using reload bonuses helps you continue your gameplay while not damaging your budget. Reload bonuses are promotions given to players who have already made a deposit and play at the new casino for a specific period of time.
New casinos provide many such promotions because they need to attract and maintain a significant number of players to build their brand and reputation.
These are among their main benefits:
Longer game sessions
Improved winning odds
Loyalty perks
Common Reload Bonuses and Promotions at New Casinos
Free rounds on deposit
Daily, weekly, and monthly cashback promotions
VIP promotions for high rollers
Daily or weekly bonuses
Tip 7: Look for Hidden Terms and Conditions
Hidden terms and conditions can severely impact your gameplay, especially when you choose to play with promotions at new casinos because not respecting them can cause you to lose your bonus funds and winnings, or even to be banned from the website.
All the best online casinos in Ireland must have clear terms and conditions, and new casinos are no exception. However, many essential terms can get lost in the fine print or in between lengthy and wordy policies.
Common Terms that Get Overlooked at New Casinos
No deposit bonus terms
The value required for playthrough
Expiration dates for complex bonuses
Game restrictions
Maximum bet limits
Maximum cash-out limits
No Deposit Bonus Terms
To attract new players, many new casinos present bonuses simply on their landing pages and provide a small separate link to the bonus terms. In the case of no-payment-required bonuses, players generally assume they will just register, get the benefits, win, and cash out.
However, while many no deposit bonuses can be claimed for free when registering with a new casino, many have terms that require payments in order to allow you to get your winnings.
The Value Required for Playthrough
Because many wagering requirements apply to the bonus value only, players generally overlook the terms that require the wagering of both bonus funds and deposited value.
Expiration Dates for Complex Bonuses
Multiple deposit bonuses or welcome packages provide separate expiration dates for the benefits you receive after each step, like registration and payments.
If you don't correctly identify the expiration date for each bonus, you may lose your funds and winnings.
Game Restrictions
New online casinos usually promote themselves using a popular game or offer promotions that target a newer title on their website.
If you opt for such a bonus and play a different game than the one it is meant for, the promotion will no longer be valid.
Maximum Bet Limits
Every site comes with a betting limit for specific games or bonuses, because new casinos must protect both players and themselves from bonus abuse.
And yet this is one of the most overlooked terms as they often appear in the fine print of the casino terms & conditions. If you bet more than the limit allowed, you risk losing your funds.
Maximum Cash-Out Limits
The maximum cash-out amount allowed at a new casino is usually found in the site's general terms and conditions or in the withdrawal policy.
It's important to note that new casinos may impose a maximum withdrawal limit for each transaction, a maximum daily cash-out limit, a limited weekly cash-out amount, or a monthly limit.
Tip 8: Explore the Newest Games Section
Once you are familiar with the new casino, its bonuses and its most important terms, we recommend that you look for the section storing the newest titles in the industry.
Almost all new casinos have a New Games section which they regularly update to attract players.
Doing this will help you stay in touch with the latest tendencies in gambling, give you fresh titles and promotions to explore, but most importantly, it may allow you to even discover in-house games that you can exclusively play at the new casino you registered with.
How to Explore New Games Safely
Here are a few simple steps to keep you safe while exploring new games at a new casino:
Play the new titles in demo mode to get familiar with the rules and payouts and not risk your money
Check the paytable and betting rules of the game before you start playing
Read reviews and watch gameplay videos to see if the game is worth playing
Set a budget before you start playing with real money, and make sure you do not spend beyond your set limit
Use responsible gambling tools like deposit limits, time limits, or self-exclusion if necessary
Tip 9: Plan Your Bets
Setting a budget and planning your bets accordingly can be a life-saver when playing at a new casino. It can prevent you from overspending and burning more money than you can actually stand to lose.
How You Can Plan Your Budget
Find out exactly how much money you're ok with spending every week on gambling
Divide your total budget by the number of sessions you want to have in a week. It will lead to smaller, equal portions you can safely use for every gaming session
Decide how much you are able to lose daily and stop once you've reached that limit
Monitor your spending and winning throughout the day and week in order to adjust your bets
Tips for Sticking to a Budget
Use responsible gambling tools like deposit limits, time limits, or wager limits
Take into consideration the casino's reality checks (if available) to monitor your game sessions
Use the budget calendar and financial activity monitor tools to keep track of how much you spend and earn
Don't try to get back money you've already lost. If you're over your budget, it's your time to stop until the next week or month, when you can safely replenish your budget
Tip 10: Take Regular Breaks and Manage Your Time
When playing at a new casino, it's important to take regular breaks and manage your time according to your needs because spending too much time playing can:
Cloud your judgement
Tire you out
Drain your budget
Create gambling addiction
With regular breaks and by reducing your sessions and organizing them in a useful way during the week, you avoid burnout, reduce the risk of overspending, and stay refreshed and focused while playing.
How to Take Breaks and Manage Your Time Effectively
Set a timer for every gaming session
Take a break of at least 10 minutes when the timer goes off
Step away from the computer or mobile device during the break and engage in other activities, like a bit of exercise or communicating with friends and family
Use responsible gambling tools like the casino's reality checks and session limits
Don't play for more than 20 minutes every session
Don't let gambling interfere with your personal or professional responsibilities. Make sure you only play in your free time
Bonus Tip: Quit Strategically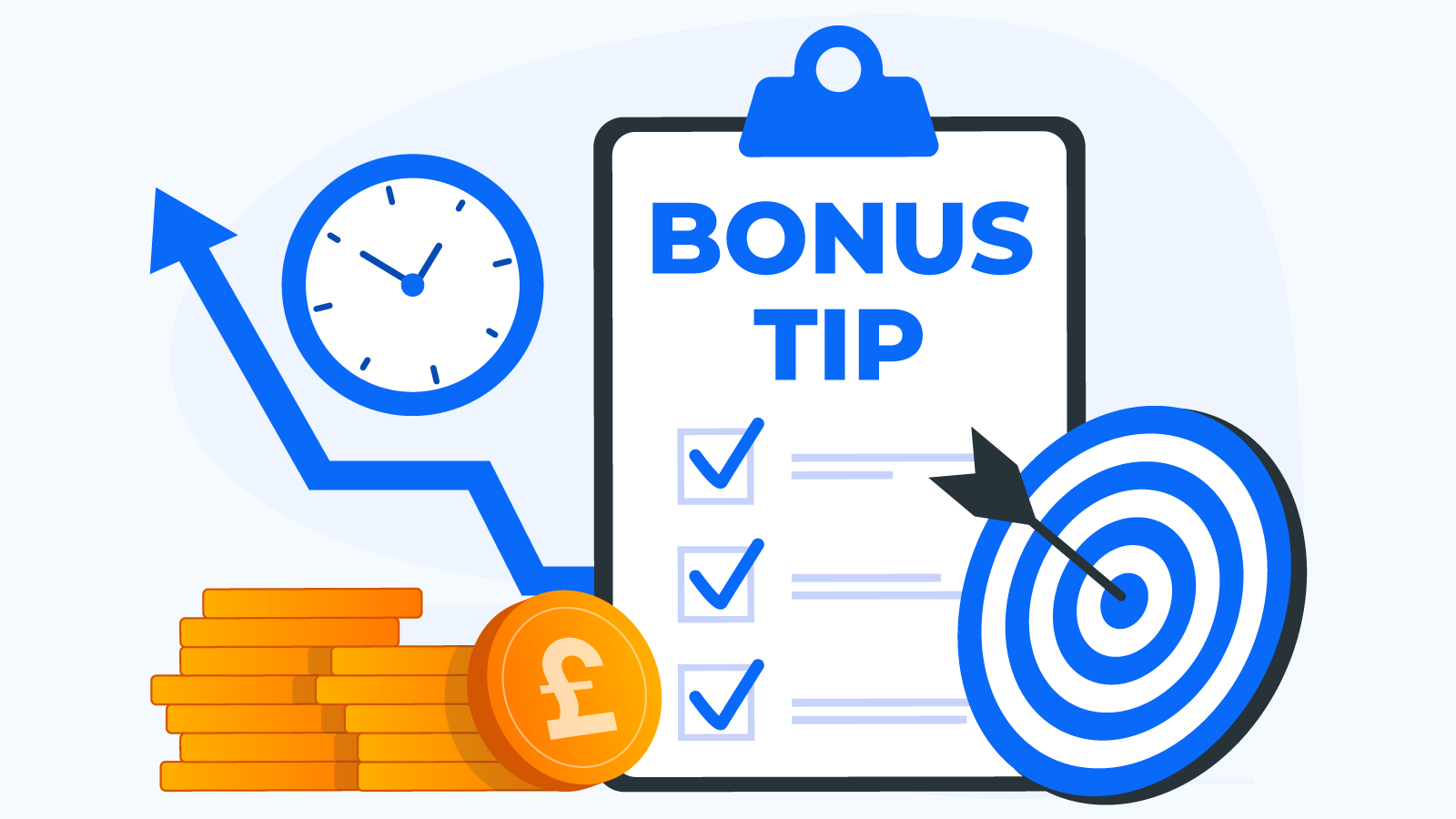 Quitting strategically is an essential part of playing at a new casino because new gambling sites are designed to keep you playing. However, this may interfere with your odds and wellbeing.
So, quitting while you're ahead is the best strategy most of the times, while other times, it's better to cut your losses and walk away.
Let's see when you should quit if you're playing at a new casino.
Signs that You Should Quit
You've spent over your spending limits
You've wagered more than you can afford to lose
You're feeling pent-up frustration or anger
You feel like you can't help betting just one more time to get back what you lost
The game, rather than being fun, is becoming a source of stress
Quitting on a Positive Note
To quit on a positive note from playing at a new casino, you can:
Cash out all of your winnings
Learn the games' strategies instead of playing for a while
Ask customer support about the casino and educate yourself on its policies for the next time you'll start playing
Remember, new casinos want to attract players and will provide a lot of opportunities for you to keep playing. Now you can play smartly, increase your odds, and keep yourself safe!
Did we help?
What's your experience with new casinos? Did our suggestions work for you? Share your opinion in our comments section! We'd love to find out if we can answer any more of your questions.