Are online casinos rigged? Learn how online casino scams work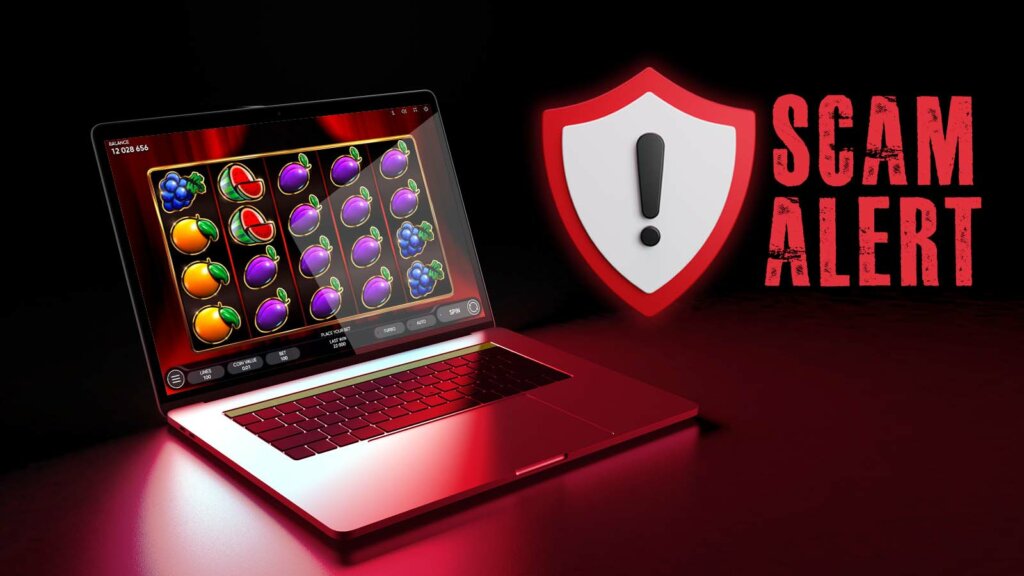 Over the years, we've encountered a lot of gaming websites and a fair number of online casino frauds. Although the active regulatory bodies for the IE market are effective, certain casino scams occasionally manage to get by it.
We created this tutorial since new gamers are the most susceptible to scammers. You can readily distinguish legitimate casino operations from scams by adhering to these rules.
What's a rigged casino?
If a casino has been modified to maximize profits, it is said to be rigged. Therefore, giving the player little to no room to create or cash out any value.
The most important traits that make a casino rigged
Game tampering for giving the house a more considerable advantage
Inconsistencies between the presented and applied rules
Constant cash-out problems or denials
These are the most significant factors that online casino scams use to increase their profits through unfair means.
Are online casinos rigged?
The short answer is no. Any iGaming platform that is not a scam will show and test its game returns. Also, you can rest assured that casinos featured on expert websites are thoroughly analysed. Any casino review aims at 100% objectivity so the gamblers know what to expect.
However, keep in mind that casinos are a business, and they will always make a profit. This is where the authorities come in the place that makes sure the proper guidelines are followed and everyone is satisfied.
Are online casino games rigged?
If the Irish Betting License issued by Revenue Commissioners licenses the casino, for example, it's indeed not rigged. Also, the presence of testing agencies like eCOGRA gives an extra layer of certainty. The RTP percentage shows exactly how fair any game type is in the long run.
Tips
Take into consideration that the Return to Player percentage shows the return to users on a minimum of 1000 bets or spins.
Irish players express the most doubts about the fairness of online roulette games compared to other casino games. This is justified since the roulette odds in Ireland can differ drastically depending on the bet placed.
Is online roulette rigged?
No. The house edge is influenced by the roulette type since the rules and wheel layout has a considerable impact. If you are unsatisfied with your outcomes, remember that it's a fair game. You can try different strategies and consider playing French roulette since it has a low house edge.
How to identify scam online casinos before joining
You can examine an iGaming platform's true colors using these straightforward techniques. To be safe, always seek a second opinion if you are unsure because con artists are continually evolving their techniques.
Tips
Doing some research before making any financial commitments can save you from a lot of headaches.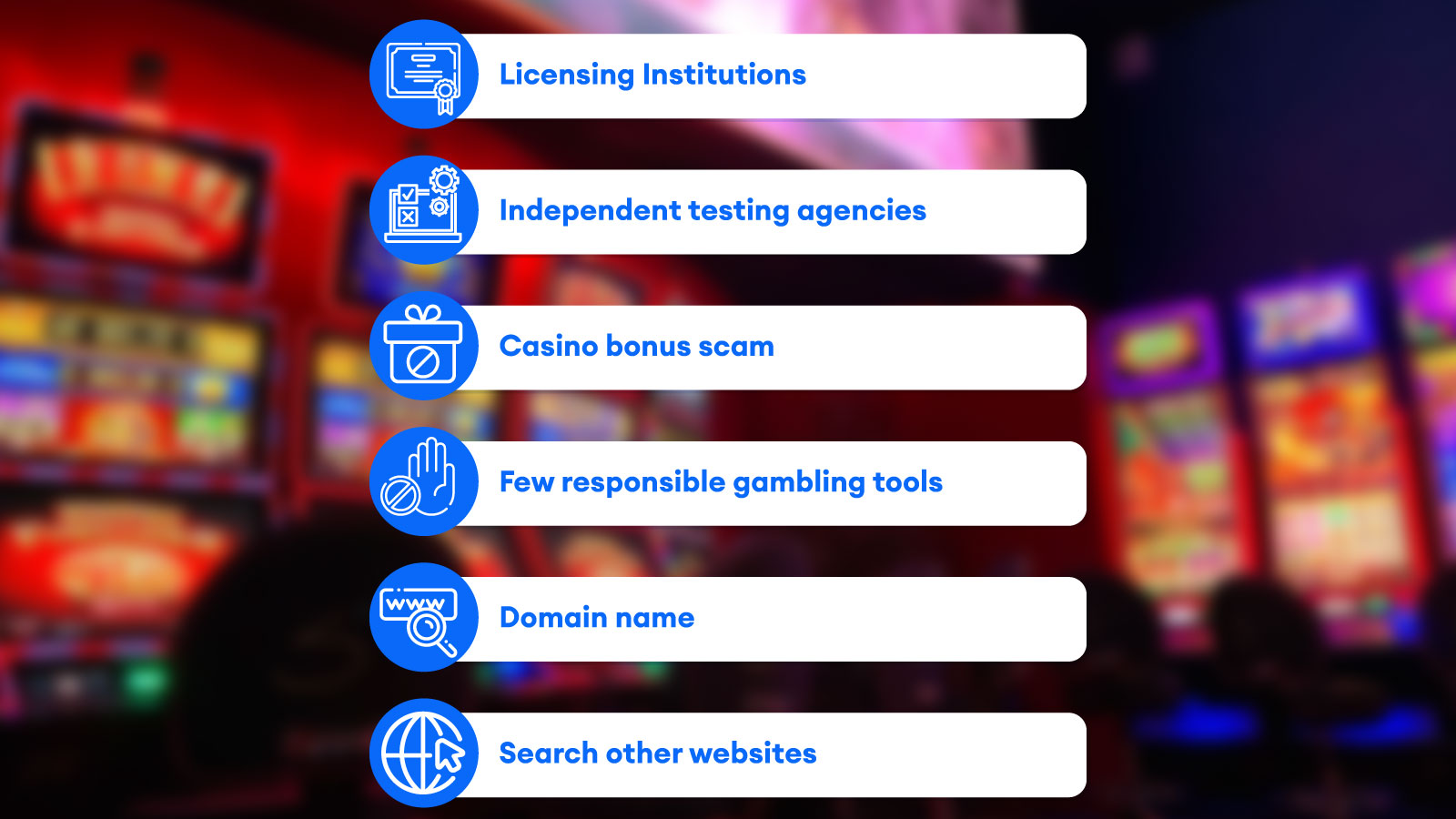 Licensing institutions are organisations that ensure the fairness of offline and online casinos by enforcing player protection regulations. The industry's most trusted institutions that ensure casino fairness in Ireland are the Irish Betting License issued by Revenue Commissioners, the United Kingdom Gambling Commission, the Malta Gaming Authority, and the Alderney Gambling Control Commission.
If they license a website, you can rest assured that it's not manipulated in any way.
How to find the license number?
Keep in mind that casinos always show their accreditation on the main page footer. There you should find the institution's logo and some text related to the number of the casino license. The logo should always be present at the footer alongside the account number.
In the case of the Irish Betting License issued by Revenue Commissioners, always click on the logo or the account number shown to ensure no online casino scams are present. They will redirect you to the official site for more details about the casino license. Suppose you cannot find this kind of information in the footer, or it's present with no direct link. In that case, it could indicate online casino scams.
Independent testing agencies
Casinos are audited by third-party organisations that analyse the available games to see precisely their RTP and RNG. The first company of this kind was eCOGRA which stands for eCommerce Online Gaming Regulation and Assurance.
An iGaming platform audited by eCOGRA will have its logo present in the footer of the main page.
How to confirm the games are eCOGRA certified?
Clicking on the logo will redirect the Irish players to the agency's website's game fairness audit results. Suppose a casino has the hyperlink in the logo that works. In that case, it shows transparency and honesty instead of online casino scams that never show relevant game information.
However, a downside is that such companies do not audit all the online casinos in the Irish market. Seeing a logo that has a hyperlink is a good sign that ensures fairness. But its absence does not automatically make online casinos rigged since not all of them use third-party organisations.
RNG and RTP page
RNG and RTP ensure game fairness since players can see exactly their chances and how much a game returns to the player.
Important
Random Number Generator, or RNG for short, it's a piece of software that ensures the outcome of a game is randomly generated. All the best online casinos will use RNG software to ensure the fairness of the games provided.
RTP or Return to Player means how much value a game will return over a long period to the players.
Testing agencies always investigate these two factors that directly influence a game's fairness. iGaming platforms usually show these numbers on their website. They are in the footer on pages titled "Fair Play" or "System Fairness", but depending on the casino, the name can vary. Moreover, some platforms have the RTP and volatility presented on each game's info page.
Trustworthy platforms are transparent
For example, most online casinos from the IE market have dedicated pages showing how their games work and fairness. Having transparent information about games ensures honest business practices.
Always look for these pages since their presence shows that an iGaming platform was audited by a third-party agency. However, not all legit casinos present this info, so always dig around for more evidence.
Offering promotions is a way in which casinos attract new players. These can range from bonus funds to extra spins. Online casino scams offer massive bonus amounts that go far beyond the promotions usually present in the IE market.
Example
The casino bonuses picked by experts are usually somewhere around 100% up to €500 for funds.
However, a red flag that makes online casinos rigged is extra-large promotions for only one deposit. Something is not in order if you see a first deposit bonus of 500% up to €5000.
A thing to keep in mind is the differentiation between a welcome package and a first deposit bonus. The welcome offer has multiple deposits, each with its bonus. It can have a cumulated value of up to €5000. Legit platforms can have this kind of welcome package, but you will never see this sort of value for only one deposit.
Few responsible gambling tools
As anyone might think, individuals that try to deceive through online casino scams do not care about player safety. The whole idea is to maximise their profits quickly before people start to notice their illicit practices.
Any iGaming platform from Ireland needs to have a responsible gambling page accessible to its players. So, any person can see what tools they have and how to use them. The lack of a responsible gambling page and few to no instruments are concerning issues that might indicate some trickery. This is another element that can make online casinos rigged.
An important thing to consider when browsing the internet is the website's domain name. Some can be copies of the original site with the name changed a little to appear legit. Constantly keep an eye out for online casino scams like this. Although they are taken down relatively fast, it's enough time to damage the bank account of some individuals.
Always look at what domain name you have accessed. If something funny happens, the platform you usually use can change from .com to .co or .net. Also, the website name can be modified slightly, indicating an illegal copy.
What makes these types of online casinos rigged is their sole purpose of stealing credit card or payment methods information. So, always double-check to ensure hackers cannot access your personal information.
When you're unsure about an iGaming platform, search online for other opinions. Some people may have encountered different problems there. Still, the best options are websites run by gambling experts, where transparency is the norm.
Professional websites from the Irish market of online casinos, like CasinoAlpha, dedicate time and resources to provide a safer online gambling environment. Platforms listed there are not part of any online casino scams.
What makes online casinos rigged is always spotted fast by experts, and that platform will never be featured on this kind of website.
Scam vs legit online casinos
At first look, there is little distinction between trustworthy websites and those that make use of online casino fraud. However, after time, irregularities start to show up, and gamers eventually realize that something is wrong.
The red flags of scam online casinos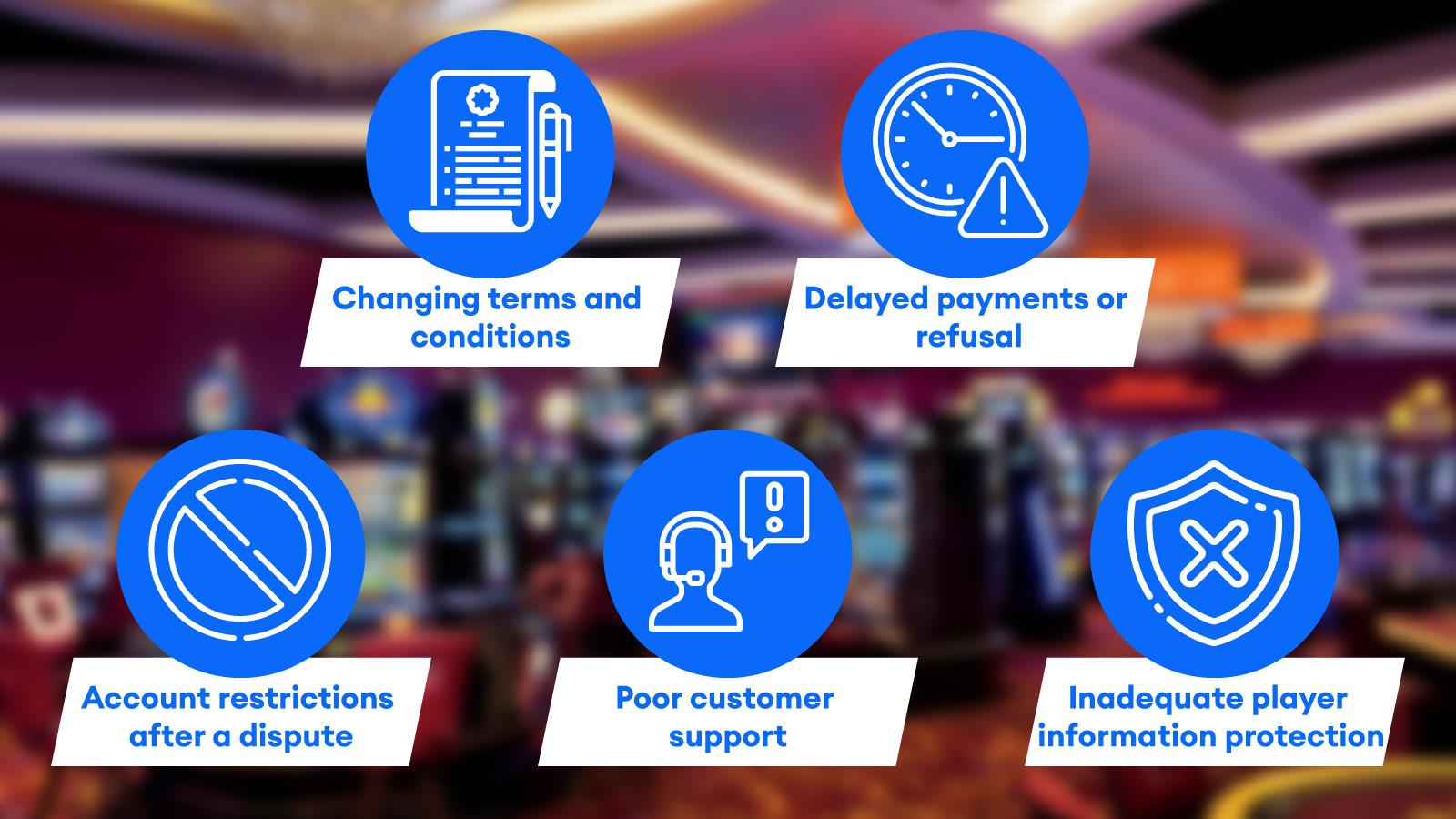 Changing terms and conditions
A defining element of online casino scams is a lack of transparency. If the user agreements suddenly change without any prior announcement, concern about their legitimacy should appear. Online casinos rigged in this way usually change the rules more often than you think so they can benefit at every corner.
An important aspect to know is that iGaming platforms rarely change their terms and conditions. However, when they do, the users are informed before any change takes place.
Noticing changing terms and conditions or bonus policy is a big red flag that indicates shady business practices.
Delayed payments or refusal of payment
Before any withdrawal is delivered, the casino must first process the payment, taking between 1 to 3 days. This depends on the casino policy, and in most cases, it's specified on the website.
Scam casinos can advertise a time frame, but they will always find excuses to refuse the payment for unspecified reasons. In some cases, when there is an outstanding withdrawal, the account can be closed without any explanation.
How do legit casinos handle payments?
This will never happen on a legitimate casino from the IE market. Any fast-withdrawal casino will always respect what they advertise. Since they also mention in what cases the payout can be delayed, so you know what to expect. You can access our online casino listing and select "Fast Cash-out" to check the platforms which process withdrawals within 24 hours.
If your cash-outs are constantly postponed for any reason or unspecified reasons, consider digging around the internet. By doing some research, you can see what other people experienced or the opinion of Irish gambling experts.
Account restrictions after a dispute
Suppose a player keeps contacting customer support about unresolved complaints. In that case, a rogue casino can impose account restrictions without any prior notice or explanation. Usually, things like this can happen after payment disputes but not always.
A rogue casino does not care about resolving player inquiries, which can be seen from how it handles customer support. When we say poor customer support, we mean various issues depending on their available methods.
Poor customer support can be but is not limited to
Not responding to email
Inadequate team member training
Giving misleading information
Only email support
Inadequate player information protection
Inadequate or even lack of any personal information security measures is a big red flag. This can never happen on iGaming platforms approved by any of the aforementioned regulatory bodies available in Ireland, like the Irish Betting License issued by Revenue Commissioners or the UKGC. One of the criteria for acquiring a license in the first place is having reliable security features.
Some casinos have dedicated pages or mention the software they use to protect the user's data. However, platforms with inadequate encryptions won't have this kind of page.
How to know if an online casino is legitimate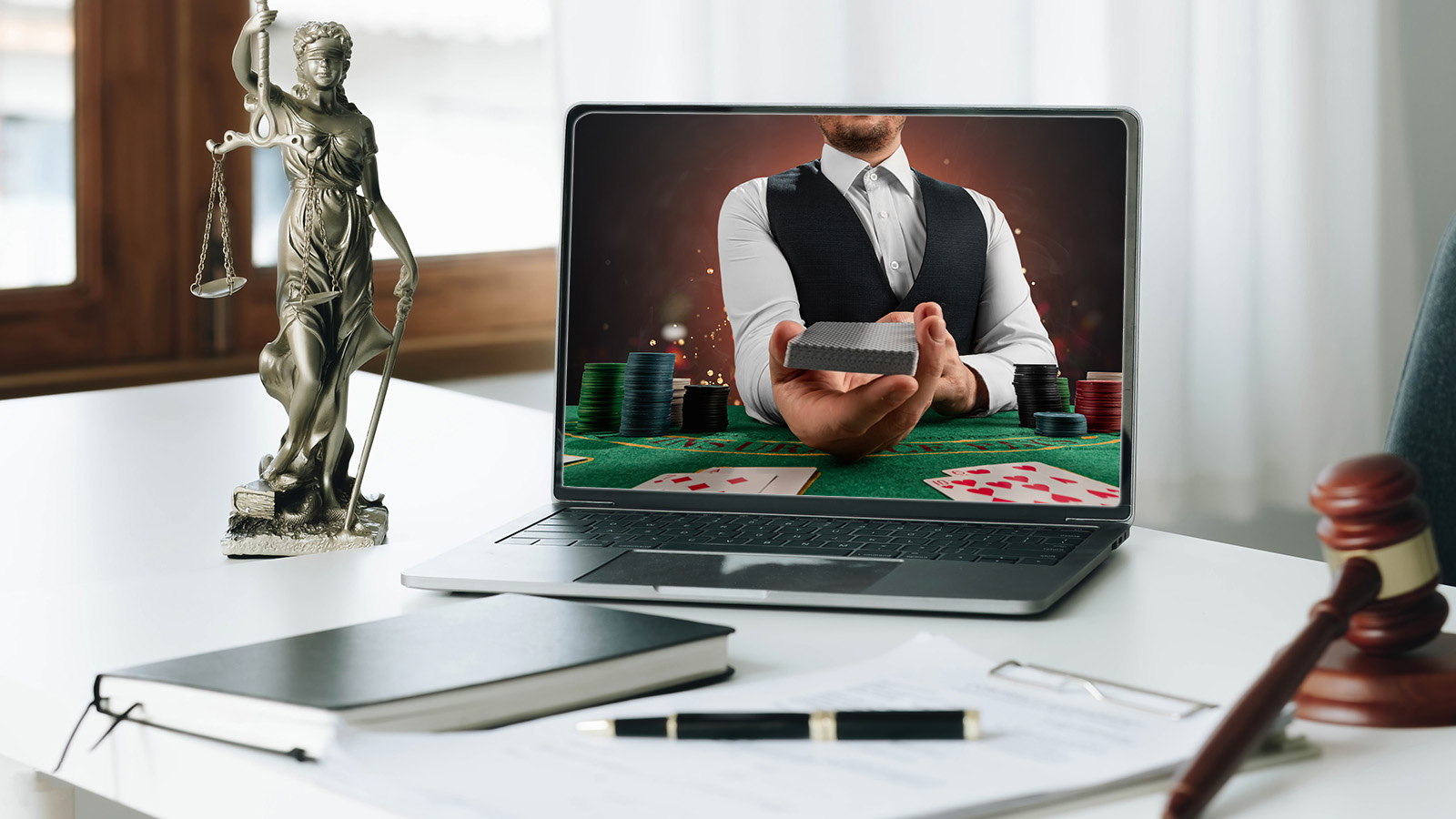 Prior to joining any iGaming platform from the IE market, always check the licence. Avoid the area if there is none. If you locate one, but it has no connection, for instance, to the Irish Betting License given by the Revenue Commissioners, you should, at the very least, be sceptical. If you believe the licensing information is suspect, do some additional research.
Explore the website to check:
If they work with independent testing agencies
How straightforward their user agreement is
The number of responsible gambling tools
How their bonuses compare to other IE market casinos
Check other websites and forums for more information
Doing this research and looking closely at the domain name are vital factors that will help protect your bank account from any fraudulent activities. Lastly, remember to play responsibly during any gambling endeavour.
References